2020 Identification Combine (During Agent Seminars)
Dates: December 2-4, 2020
Location:  Myrtle Beach Sports Center
(2115 Farlow Street Myrtle Beach, SC 29578)
Host Hotel:  Courtyard Myrtle Beach (Broadway 1351 21st Avenue North, Myrtle Beach, SC 29577, USA) reserve
The scouting department will be evaluating talent for the 3rd wave (Holiday Break). European contracts plus specific Latin and North American Countries including NBA GLeague, NBL Canada and ABA. 
This combine benefits players who have not been signed during the 1st half of the overseas season and or who need updated stats, video and an EG score.  Combine staff will also be scouting for the upcoming Euro-Tour which takes place in February and will offer a Scholarship for the Top Player of the Combine.  
Agent Seminar meetings will be held at host hotel and will include FIBA Licensed, NBA Guest Speakers.  Players are allowed to participate.  
Top Players Graded 2.7 (Euro-Grade) Offered Internationally 
Euro-Tour 2021 (February 9-20) vs Top European-Clubs During FIBA Break
Scholarship Offered to Top Player of Combine
In 2020 Robert Sampson signed to play in Romania- National League.  
In 2019  Devaughn Jenkins (Angelo St.) signed with Lipjani (Kosovo) and Donovan Smith (Quinnipiac) signed with CSM FOCSANI (Romania).  A total of 3 contracts were offered.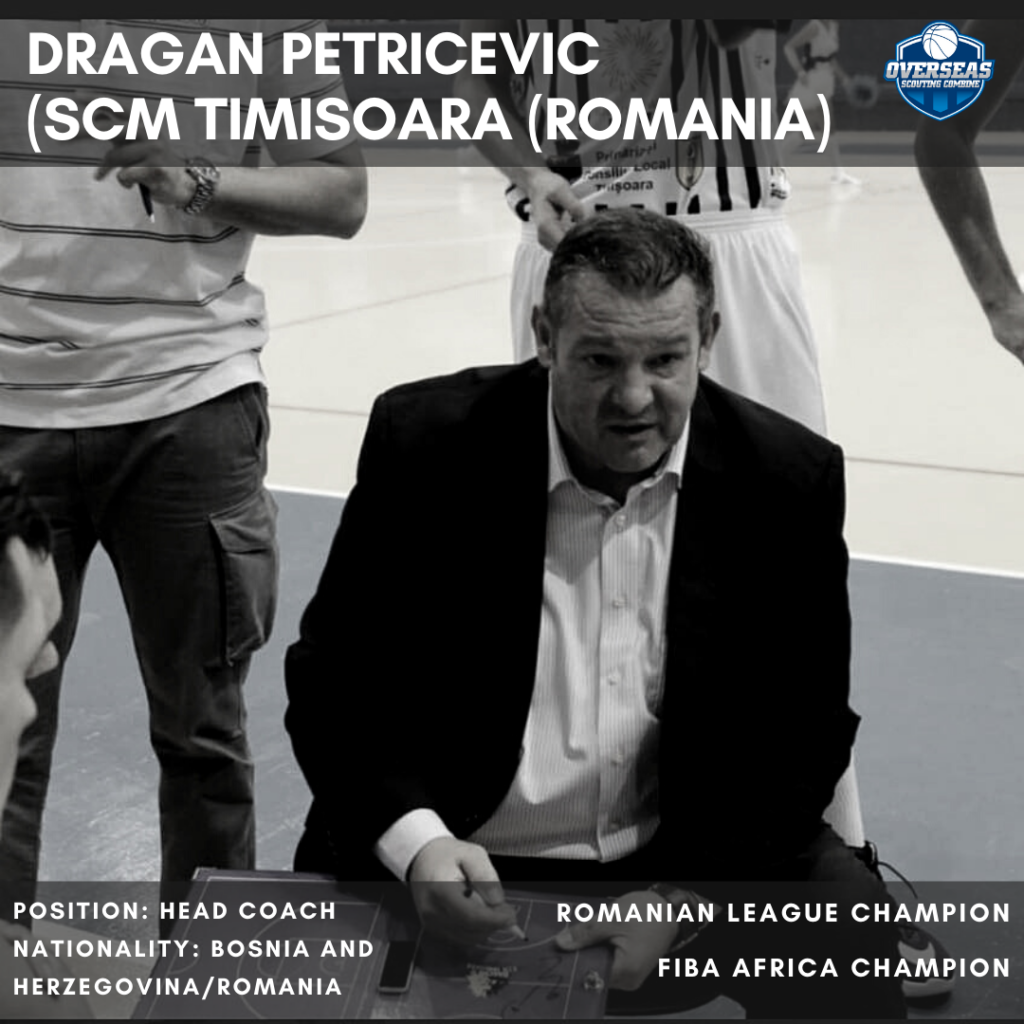 Dragan Petricevic (SCM Timisoara, Romania)
Position: Head Coach
Team: SCM Timisoara (Romania) (2019-22)
Nationality: Bosnia and Herzegovina/Romania
Previous teams: Cluj Napoca (Romania), MIA Academy (Georgia), C Africain (Tunisia), Sibiu (Romania), West Olympia (Romania)
Head Coach: Romanian National Team
Romanian League Finalist 
Romanian League Champion
FIBA Africa Champions Cup for Clubs Winner
All-African Champions 
Previous teams:
Cluj Napoca (Romania)
MIA Academy (Georgia)
C Africain (Tunisia)
Sibiu (Romania)
West Olympia (Romania)