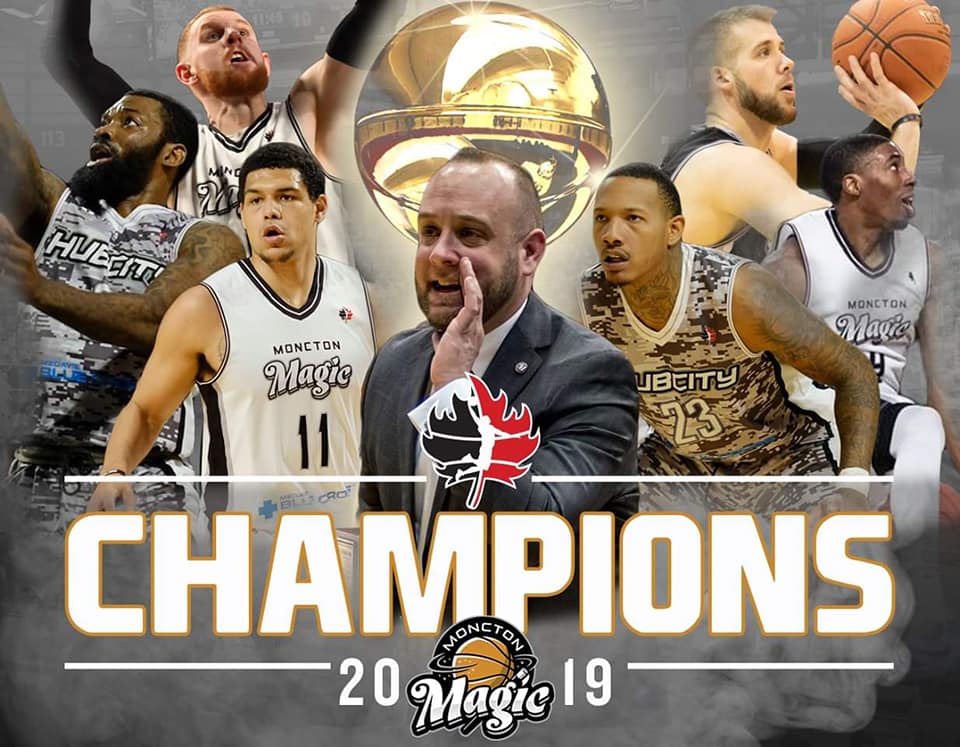 Ft. Lauderdale Combine Head Coach and GM of Player Operations,
Joe Salerno is a veteran to basketball with nine years experience coaching at the professional level. Much acclaimed by NBL Canada, he was named the league's "Coach of the Year" in 2013 and "All-Star Head Coach" in 2013 and 2014. Most recently, Salerno was head coach of the Island Storm in Charlottetown.
​He led the Storm to four Atlantic Division finals in six years (two of which they won) and they also made two appearances in the national finals. He was also the first coach in the league to reach 100 regular season wins and was named NBL Canada's all-time winning coach in 2016.
Story by: Austin Deuville 
The Moncton Magic are your 2019 NBLC Champions! 
After taking care of business against the St Johns Edge during the regular season with a 4-1 advantage, it was more of the same for the Moncton Magic during the Finals. The Magic defeat the Edge in Game 4, 130-120, completing the Finals sweep 4-0. 
Trey Kell is an incredible talent, what more can be said. He finished with a team-high 41 points, 9 rebounds, 6 assists and 3 steals. Kell has been Moncton's workhorse throughout the entire postseason, creating instrumental plays at crucial moments. He plays the game at his own pace and doesn't force the issue. Kell is always in control, getting to his sweet spots, and making defenders pay. Billy White is an unconventional leader, he leads by how hard he plays. He makes his presence felt when he's on the floor, playing with an immense amount of emotion and intensity. White finished with 21 points, 4 rebounds, 4 assists and 2 steals. Jason Calliste brought the magic once again, averaging 14.5 points off the bench during this series. Calliste finished with 18 points, 4 rebounds and 4 assists. Marcus Lewis contributed 16 points and 4 rebounds. While Nick Evans added 11 points and 8 rebounds. 
Although I can't talk about every player all the time, each and every player on the Moncton Magic's twelve man roster are champions and that can never be taken away from them. They have all contributed at one point or another his season, stepped up when their numbers were called, played unselfishly and understood the main goal of winning a championship. 
The St Johns Edge did not go down without an honorable fight and you have to respect their effort. Desmond Lee was feeling it, dropping a game-high 43 points, 13 rebounds and dished out 4 assists. Lee also shot 12-22 (55%) from the field, 7-10 from downtown, and 12-12 from the free-throw line. Glen Davis finished with 28 points, 3 rebounds, 5 assists and 2 steals. Murphy Burnatowski added 11 points, 3 rebounds and 2 assists. While, Jarryn Skeete and Jared Nickens each had 9 points apiece. 
The Moncton Magic are NBLC Champions for the first time in franchise history. After overcoming adversity, injuries, and player turnover, the Magic finished atop the standings with the best regular season record in the league (27-13). Head Coach Joe Salerno was awarded the Coach of the Year award, Wayne McCullough was presented with the Outstanding Community Service award, capturing the Atlantic Division Title, and the bringing home of the National Basketball League of Canada Championship. Let's just say it has been a storybook ending to a historic 2019 season and a tremendous time to be a Magic fan.