Perry Huang
Perry Huang doesn't take it for granted. According to him, he doesn't even think he should be here right now. Here, meaning not just Prescott Valley or Seattle, where he's currently at for the summer, but in the United States coaching a sport he loves.
"I think from my background and where I come from, I'm a first-generation Chinese-American," Huang said. "I'm not really supposed to be here kind of thing. So, I'm grateful for every opportunity that I've had so far because my parents moved here not thinking that I'd ever be here, you know? Regardless of where I am, I think I've accomplished a lot more at a higher level than I thought that I would've when I first started."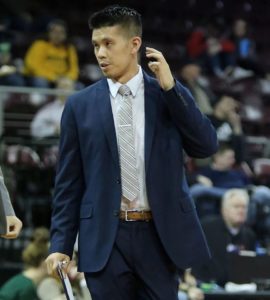 Huang wrapped up his first season as an assistant coach with the Northern Arizona Suns in 2018-19, more than 40 years since his parents left China to get out of a communist country. They moved to California first before heading to Salt Lake City, where Huang was born and stayed until he turned 10 years old.
Basketball wasn't a passion for him then and it didn't pique his interest until he was 14 years old living in Monterey, California. It quickly became an obsession after that as Huang helped lead Monterey High School to its first league title in a decade. He earned a scholarship to play at Fresno Pacific University, and again helped the team reach lengths long overdue, as the Sunbirds won the conference title for the first time in 18 years during his senior year, reaching the national tournament for the first time in 14 years.
What is clear now wasn't so clear in his playing days though, at least to him – he had the special qualities of a coach that everyone else could see.
"There was this time when we were playing this team and the coaches all thought I had a high basketball IQ and they gave me the scouting report, even though I was still a player," Huang said. "So I ended up giving the scouting report before the game. I guess then I should have known I was going to become a coach."
After graduating from college, he still didn't know. He landed a 9-5 job and was moving right along, helping with youth basketball on the side. The volunteer effort would eventually lead him to a coaching job in the NBA G League.
"I think I just grew to love it the more I started coaching, the more I got into it and realized this is kind of what I want to do with my life," Huang said.
He landed his first coaching job with a local high school, taking over as the junior varsity coach. Then he got a call from his college coach to go coach in San Diego, which led him to coaching three years at Monterey Peninsula College before a tenure with the Santa Cruz Warriors. He volunteered his first year in Santa Cruz, and in that first year, the Warriors won the championship, a quick run to the top for Huang. That led to him getting a job offer from Santa Cruz as a coaching associate the next season.
The following year, he joined the Seattle Storm of the WNBA. He was the Storm's video coordinator, and just like in Santa Cruz, he won a championship in his first year with the program, this time helping the squad go from the eighth seed at 15-19 in 2017 to the first seed in 2018 at 26-8. That was a little sweeter for the 32-year-old.
"I learned a ton from Breanna Stewart, Sue Bird especially," Huang said. "Just the overall IQ of that team was tremendous, it was probably one of the biggest factors of why we won the championship. Not only learning from the coaches, but understanding from a Hall of Famer like Sue Bird, understanding how she sees the game, how she interprets everything. I think that was probably my best experience to this day, winning the championship. I was there with Santa Cruz when we won the championship, but I didn't have as big a role. This time I felt like I had a much bigger role in their success."
Huang is back with the Storm this summer as the team's video and equipment manager. They'll play their season opener against the Phoenix Mercury on Saturday without their two stars who Huang enjoyed working with so much last year in Bird and Stewart. It will be an added challenge to defend their title, but for coaches that can be fun. It's a chance to test out theories and philosophies on players who aren't already destined for the Hall of Fame, a good way to measure where you are as a coach.
Huang has high aspirations, as he hopes to make the NBA one day or be a head coach of a Division I program in college. Whether he makes it to the highest level or not, he has already accomplished great things in the coaching realm, especially for someone who thinks he's lucky to even be here.